Home » activities, Featured
Where to Have a Birthday Party in Dallas Ft Worth

Directory of Birthday Party Locations
in DFW Metroplex
If you are looking to put on a great Birthday Party for your son or daughter, you've found the right place! Our advertisers have a wide variety of birthday party options for you in Dallas, Frisco, Allen, Plano, McKinney, Grapevine, Flower Mound, Duncanville, Euless, Farmers Branch, Highland Village, Southlake, Colleyville, Richardson, Carrollton and more, and some will travel to you. Tell them you found their Birthday Party listing in North Texas Kids! Looking for boys party ideas or girls party ideas, we have it all!
DFW AREA – VARIOUS LOCATIONS
email us at:   theroyalpartyroom@live.com
website for girls:  www.theroyalpartyroom.com
website for boys:  www.theroylapartyroomboys.com
facebook:  http://www.facebook.com/royal.partyroom
We are all-inclusive, meaning we bring the entire party to your door or any venue you choose! We'll setup, breakdown, host,and include the latest music and lavish decor. Your birthday child will have a party that is memorable and magical for her or him,and simple for you! Bringing the ultimate birthday party experience directly to you!
We provide mobile services including: Princess parties, Diva parties, Spa parties, Rock Star parties, Barbie parties, Hello kitty parties AND Boy themes; including Pirate parties and Medieval parties
Locations in Farmers Branch, Euless and McKinney www.drpepperstarcenter.com 214-GO-SKATE The Dr Pepper StarCenter is the perfect venue for the ice-skating or hockey enthusiast. We offer a variety of packages to suit your needs. All birthday parties include; ice skating, drinks, plates, cups, napkins, forks, and party favors for the guest. Plus the birthday child receives a gift certificate valid for one semester of skate school at 50% off and a cinch sack autographed by all of his/her guests. Our Party Hero will do all the work so you are free to enjoy your child's birthday party.
How about a Broomball Birthday Party ? Broomball is very similar to hockey with two nets and two teams but you play in your tennis shoes with broom style sticks and a ball. Have the Coolest party in town at your neighborhood Dr Pepper StarCenter.
17717 Coit Road Dallas, TX  75252
cpace@adventurelanding.com
972.248.4653
Website: https://www.adventurelanding.com/parks/dallas/
Facebook: https://www.facebook.com/pages/Adventure-Landing-Dallas/177535302112
At Adventure Landing, We Go BIG for Birthdays!  Relax Mom & Dad, let us do all of the work!  A trained party captain will be at your side to help organize and host your party from beginning to end.   Adventure Landing Birthday parties are guaranteed to be memorable and affordable.  Our packages include food, drinks, paper products, activities and attractions starting as low as $13.99 per person!  Plus, the birthday child will always get a special bonus gift.  Be sure to check our website for additional discounts!
www.facebook.com/pintwistparties
214-534-7455
Email address- info@pintwistparties.com
PinTwist Parties offers Pinterest inspired parties. We take the most popular Pinterest pins and turn them into reality for you and your guests. We combine a "Party in a Box" with friends, spirits, and a talented consultant to create individual Pinterest Masterpieces. You can relax knowing that your next event or party will be a resounding success. Let us take the stress and worry out of how to hold a fabulous event. Our goal is for a completely captivated audience. Your next event will be one of the most amazingly fun times you and your friends have ever experienced.
Owner: Kim Matthews
www.scribblecakes.com
cakedecoratingparties@scribblecakes.com
Party planning can be a lot of hard work – especially when you have a reputation for fabulousness like you do. Instead of dashing all over town looking for a new party concept, let Scribble Cakes customize the cutest party ever at the location of your choice within the DFW Metroplex.
Be the "cake boss" of your home with this sweet event, that's entertaining for everyone ages 3 and up. Scribble Cakes will work with you to design a cake decorating theme to fit the party scene. Pastry pros will help guide your guests to create their own delicious masterpiece. Mom, you can join in the fun, or chill out and let the Scribble Cakes staff take charge. You'll send party goers home with delectable memories and a satisfied sweet tooth all at a great price.
(5 DFW Locations)
4621 West Park Blvd, Suite #104 Plano, TX 75093 972-599-SWIM (7946) http://www.iswimemler.com Parents can relax while kids splash and play in heated indoor pools under the watchful eyes of two certified lifeguards. After pool time, a private room is provided for continued celebration. Best of all, Emler allows you to bring up to 30 guests at no additional cost – and includes 30 invitations!
Fun Times Party Rental loves to have FUN. In fact, we put the FUN in party. You provide the party: we provide the fun. Don't take our word for it, come on in and see for yourself what the wonderful world of Fun Times Party Rental has to offer for your moonwalk rental, train rental or bounce house Dallas needs. Huge Selection of Bounce Houses, Wet/Dry Slides, Sno Cone, and Popcorn Machines. Receive a Free Delivery when you mention N. Texas Kids!!
Website: www.funtimespartyrental.com
Facebook Page
Phone: 214-277-4953
(Plano, Dallas)
Website: www.gotjump.com
Facebook Page
Twitter Page
Phone:
Plano, TX (972) 378-5867
Dallas, TX (972) 349-6999
Welcome to jumpstreet®!  Your day time, night time, any time, fun time
place.  Are you looking for a unique facility to celebrate your next
birthday or event?  Well, stop looking!  You have found it.  Something for
everyone with over 13,000 square feet of trampolines on the main court,
trampoline dodgeball, arcades and more.
2 HOUR jumpstreet® PARTY PACKAGES ALL INCLUDE:
Jumping on open trampoline court and trampoline dodge ball (ages eight and older)
Inflatables, smaller trampoline and play area (ages 7 and under)
Reserved table in our party area
One bottle of water per jumper
Plates, napkins and tableware
Use of a party host
Option to bring in your own cake
(Frisco, Grapevine, Lewisville, Plano)
Website: http://www.maineventusa.com/
Facebook Page
Twitter Page
Locations in Frisco, Grapevine, Lewisville, Plano Our Special Events Team helps you plan, coordinate and customize the party to fit your needs. Your kids go nuts with video games, bowling and laser tag. Our Party Hosts serve up (and clean up) refreshments in your Private Party Room. You sit back and enjoy the party of the year. It doesn't get much easier or much more fun than this. Contact your local Special Events Team to start layout of your next Main Event Birthday Party.
(O'Reilly's McDonald's, Plano, Allen, McKinney, Frisco)

Ages: All. McDonald's offers Birthday Party Fun where we do it all so you can relax and enjoy. Only $79.99 for 10 children and $7.10 for each additional child. Includes: Party Hostess/Host, Happy Meal, Cake, Ice Cream, Decorations, Party Favors and a Special Gift for the Birthday child. Locations in Richardson, Plano, Allen & McKinney. Make your reservations on-line www.OreillyMCD.com.
(Plano, Garland)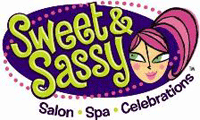 Sweet & Sassy is the coolest place to get a Sassy haircut, Sweet Spa pampering, and have an unforgettable Celebration with your own Hot Pink Limo ride! Sweet & Sassy is a cutting-edge children's salon, trend-setting retail store and the perfect celebration place! Customers enjoy top-quality services including haircuts, up-dos, mini-manicures, mini-pedicures, ear piercing, spa and glam girl packages, and a selection of seven signature birthday parties. Locations: 670 Beebalm Ln Garland, TX 75040 (972) 530-1500 The Shops at Willow Bend 6121 W. Park Blvd Plano, TX 75093 (469) 546-1010
Website: www.sweetandsassy.com
Facebook Page
(Addison)
Contact info: Naomi Anthony email: nanthony@threehundred.com
http://www.facebook.com/300dallas
Finally, a stress-free children's party. At 300 Dallas, our event planners will help take the stress out of planning your child's birthday party. We'll handle the details including invitations, decorations, catering, games and more so you can sit back, relax and enjoy the party. With 42 bowling lanes, comfy seating, multi-media screens and state-of-the-art sound & lighting, it's 45,000 square feet of family-friendly space. Choose from a variety of birthday packages or consider reserving our private suite, soundproofed for kids.
For more information, contact us at 972.620.7700 or visit 300dallas.com
John Hopkins, Owner
2809 Justin Rd Suite D,  Flower Mound, TX 75028   (469) 442-1919
http://letheatredemarionette.com
"Simply Amazing!" "Captivating! "Unique!"  Birthday Party Entertainment from Le Theatre de Marionette
Silly Strings Variety Show – Rated #1 Best For Families
10 x 10 performance area
Non-stop entertainment with plenty of audience interaction
Minimal staging requirement
Only a single electric outlet needed for sound system
We bring everything else!
During the show, the puppets interact with audience members and the birthday honoree.
After the show – the puppets pose with the birthday guests for photo souvenirs. Children can select their favorite puppet performer for a one-on-one photo
FRISCO
Color Me Mine, the Paint-It-Yourself Ceramics Studio
We're all fired up about our party packages!  We provide everything that you and your guests need to have a super time celebrating and creating.  All packages include: ceramic pieces; unlimited paint colors, tools & supplies; glazing & firing; 2 hours party time; a dedicated staff member; invitations & Thank You cards. A great idea for your next: Birthday, Bridal Shower, Team Building Event, Anniversary, Friends Night Out, Family Reunion, Fundraiser or Just for Fun! Location: 3401 Preston Road, Suite 10, Frisco, TX 75034 Phone: 972.668.6201 Email: frisco@colormemine.com
Website: www.frisco.colormemine.com
Facebook Page
Check out our website for more information or to BOOK your party online!

Allow us the opportunity to plan your child's special celebration full of fun activities while you sit back, relax and enjoy the day. Our party coordinator will plan all of the details of the party which will include one hour of gymnastics activities and games and allow 1/2 an hour for cake and/or opening presents. We plan all of the activities around the age of the birthday child. The party is structured and supervised so that all of the children have a fun experience playing games and utilizing the gymnastics equipment. Please call 972-712-4644 to reserve your party date. Children must be over the age of 3 to participate. Location: 6085 Sports Village Rd Frisco, TX 75034 Phone: 972-712-4644 Email: eagleinfo@eaglegymnatsics.com
Website: www.eaglegymnastics.com
LET US SKATE! The Ice at Stonebriar has you covered with daily public sessions, skating lessons for tots through adults, group rates, hockey lessons, birthday parties for broomball and ice skating, Boy/Girl Scout badge program, private lessons by certified instructors. Call Patsy 972-731-9600
Website: www.stonebriarice.com
KELLER
Come party at the Keller Pointe!
Party packages include use of a party room for one hour for ten guests. All packages include a decorated cake, punch, ice cream, choice of party favors, use of the indoor and outdoor pool (depending on season), and a Party Host to make everything run smoothly.
Visit our website http://www.cityofkeller.com/ for reservations and details.
PLANO
1400 Summit Ave. D2 Plano, TX. 75074 Call: 972-578-SWIM (7946) www.aquafitplano.com
Birthday SWIM Party at Plano's Best Warm Salt Water Facility! 1-1.25 hours of pool time with pool toys (balls, rings, noodles). 30 minutes of "birthday time" after swimming. Parents bring their own cake, refreshments and party goods. Aqua-fit employee will help in serving the cake and will take care of all clean up. Private Pool Rental by the hour is also available to be used for a party or fundraising events. Email: aquafitplano@verizon.net
Painting is Good for the Soul. Art & Soul has an expansive variety of banks, pizza plates, ring holders, flower pots, girl/boy items and much more. All are fired in a kiln & food safe. We supply idea books, stencils and valuable painting tips. Relax and embrace your originality! No experience necessary. NO STUDIO FEE (paint, glazing & firing included in price). Walk-ins are welcome. Location: 4621 W Park Blvd # 105 Plano, TX 75093 Phone: (972) 599-2529 Email: info@artsoulartstudio.com
Need a gift? Art & Soul makes gift-giving EASY. Looking for an original, personalized gift? Our custom artist can paint designs for Teachers, Coaches, Grandparents, Mother's Day, Holidays and any other occasion. Select from our extensive portfolio of designs or bring your own!
Website: www.artsoulartstudio.com
Welcome to CooCoos™ a place where kids can come have a CRAZY fun time!  We
are a unique bounce house facility that is designed for open play, as wells
as fabulous birthday parties.  Come in and see what a CRAZY time you can
have! Plano, TX (972) 781-2662 Website: www.coocoos.com
*Birthday Party Packages all parties include:
Bottle of water for each participant
15 Guests (includes birthday child)
Use of party host
Table in our party area with table cloth, plates and tableware
Option to bring your own cake (must have a reservation)
Upgrade to a private room available
The Artist Within is able to accommodate approximately 30 children. Birthday party ages start from 5 years and go up to 14 years old. Parties are 1 and 1/2 hours long, 1 hour for the project and 30 minutes for cake, and if time permits, for opening presents. Email the studio dawn@artistwithin.com or call 972-596-6077 for reservations and more information. Location: 2001 Coit Rd, Ste 206. Plano, TX 75075 Phone: 972-596-6077
Website: www.aristwithin.com